---
---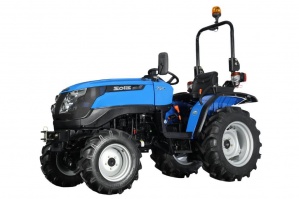 Europe's Fastest Growing Compact Tractor Brand
The Solis range consists of the Solis 20, 26, 50 and 75CRDI in which all model numbers correspond to the tractors horse power. With well over 90,000 tractors a year being sold globally these smart looking machines are known for their power, simplicity and affordability. Whether your the proud owner of a small holding, farm, golf course, orchard or a livery yard we have you covered with your ideal machine. All machines are ready to be road registered, complete with lights, mirrors and a flashing beacon.
If your still not impressed then all the Solis range come with 3 years warranty free of charge leaving you as a customer reassured that your machine will be maintained
Please feel free to contact our sales team on 01743 718762 to discuss the Solis range or book to view a machine.