VALTRA RELEASES THE 6TH GENERATION S SERIES; DESIGNED AND BUILT IN FINLAND
Recently, Valtra unveiled the latest generation of our flagship high horsepower tractor – the S Series. After significant investments in our home factory in Finland, the 6th generation S Series will now be produced in Suolahti. This welcome return heralds a new era for the S Series. As well as boasting several design and feature improvements the entire S Series range is now available with the famous Valtra Unlimited customisation options.
Introducing 'The Boss'
Valtra has proudly nick-named our latest high horsepower offering 'The Boss'. At 280-420 HP, the S Series is Valtra's largest and most powerful tractor, promising high torque at low revs. The 8.4l AGCO Power engine and CVT transmission offer a 5% reduction in revs and up to 10% decrease in fuel consumption compared to the S' predecessor.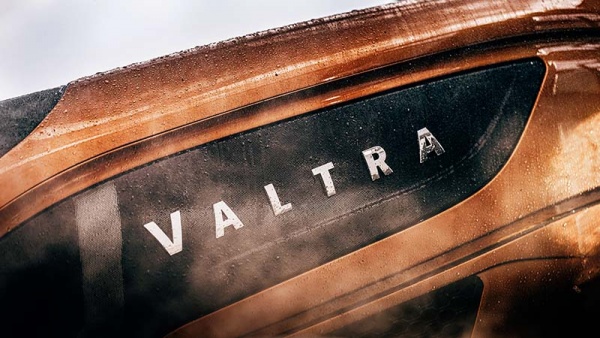 As farmers and large farm contractors have come to expect from Valtra, the latest S Series places high emphasis on comfort, visibility, and smart technology. And there are several new features and improvements that set the 6th generation S Series apart. A new design, improved access, a new spacious cab, an increased number of lights (all of which are LED), and more versatility for all tasks are just a few introductions for the 6th generation S Series. The factory-fitted TwinTrac reverse drive system and SmartTouch user interface have always been popular features with the S Series drivers. The new S Series brings a number of upgrades including a range of suspension options for front axle and cab, and now S Series tractors can also be fitted with Valtra's Skyview cab option and Valtra Unlimited customisations.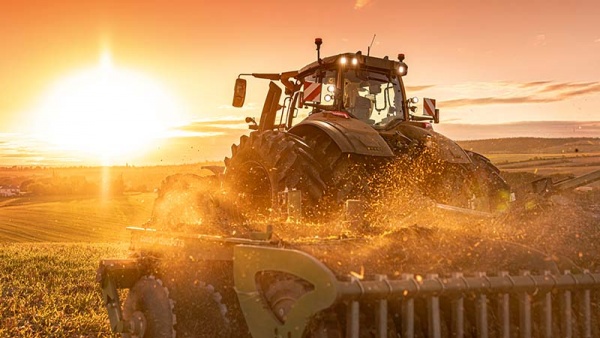 The S Series Nordic design
The design of the new S Series draws inspiration from Valtra's popular 5th generation design, but there are some notable changes. Valtra's Industrial Design & User Experience Department Lead Kimmo Wihinen explains, "The 6th generation S Series combines form and function in a modern, aggressive form language that conveys the S Series' power. The sleek slope of the bonnet gives exceptional forward visibility. As an industry-first, the S Series features a fully integrated light unit including LED low/high beam, LED daytime running lights as well as close range LED working lights in the front. This provides an exceptionally high level of light output and gives the 6th generation S Series its distinctive look" There are now a total of 16 work lights, all of which are LED. Fans of Valtra's 5th generation N, T, and Q Series cabs will appreciate the familiar and ergonomic cab in the S Series which is accessed via more gently inclined steps than the previous generation.

HORSCH announces new and updated cultivators, drills and sprayers for Agritechnica
HORSCH has announced a wide range of updates and new models to its cultivator drill and sprayer ranges, which will be shown to the public at Agritechnica show 2023. "We are always innovating and developing out product range based on feedback from our customers, and what the Horsch family learn farming our own land in Europe," explains Stephen Burcham, General Manager for HORSCH UK.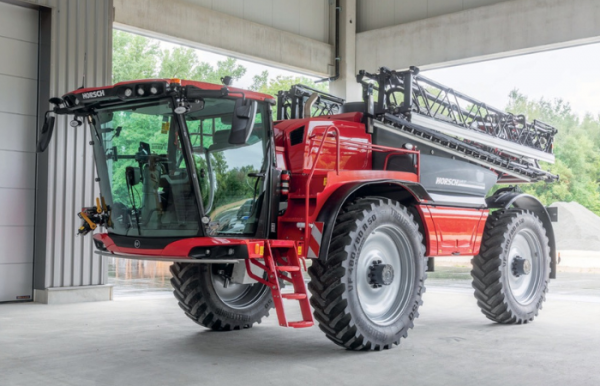 "The new HORSCH Leeb VT sprayer has a variable track enabling widths from 1.8m to 2.4m, which will be of great interest to contractors, and we expect this to increase sales of our self-propelled sprayers in the UK into a new sector of the market.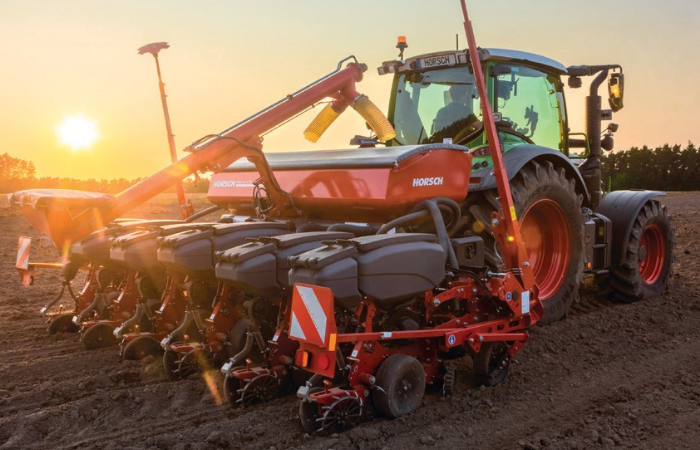 "The new Avatar SL and Sprinter SL drills expand these popular ranges to offer proven features at small working widths, while the new Maestro TX features a telescopic frame for a wide variety of row spacings. As always, our goal is to provide the machinery that enables the farmer work the way he wants to, machinery adapted and developed to meet the needs of UK farmers."
Valtra Q Series wins 2023 Red Dot Award: Product Design
Valtra's new 'Beast' gets off to a roaring start with Red Dot win
This week Valtra celebrates another achievement as their 'Beast' receives a prestigious Red Dot Award: Product Design. The announcement comes less than 6 months after their newest tractor, the Q Series was released. For a new tractor in a previously unchartered horsepower range, receiving such an award confirms what many farmers and contractors who have test driven the tractor have been saying – The Q Series is a well-designed tractor that perfectly suits this higher horsepower segment.

The much-anticipated Q Series was released in September 2022, and quickly garnered industry attention, picking up the FARM MACHINE 2023 JURY AWARD at the SIMA show in November. The FARM MACHINE jury praised the Q Series's agricultural contractor-focus approach.
At 230 to 305 horsepower, the Q Series perfectly fits the gap between Valtra's 155 to 271 hp T Series and their 290 to 405 hp S Series. In test drives, customers have praised the Q Series' smooth CVT transmission, manoeuvrability, and high level of visibility for such a high horsepower tractor. To achieve this, careful consideration has been given to the design of the Q Series. Industrial Design & User Experience Department Lead, Kimmo Wihinen, explains that the best tractor experience comes from listening to the customer: "Customers have been asking for a bigger T Series. We have delivered a completely new tractor. Large farms and agricultural contractors need an efficient higher horsepower tractor but with good manoeuvrability and visibility. Everything from the easy access via the aluminium steps, the all-new powerful integrated front work lights, market-leading cab comfort, new roof design, and easy to use, fully integrated technology via the SmartTouch user interface, responds to customer feedback. Everything is designed to make the Q Series the most comfortable, and well-equipped tractor of its kind. It is the best tractor we have ever designed and built here in Suolahti. We are very happy that the Q Series continues Valtra's history of winning Red Dot Design Awards."

Valtra's previous successes with Red Dot Awards has included an award for the T Series in 2016, an Honourable Mention for the N Series in 2017, a win for the A Series in 2018, for the G Series in 2021, and, more recently, a Red Dot Award for the N Series in 2022.
VALTRA Q SERIES LAUNCH EVENT & OPEN DAY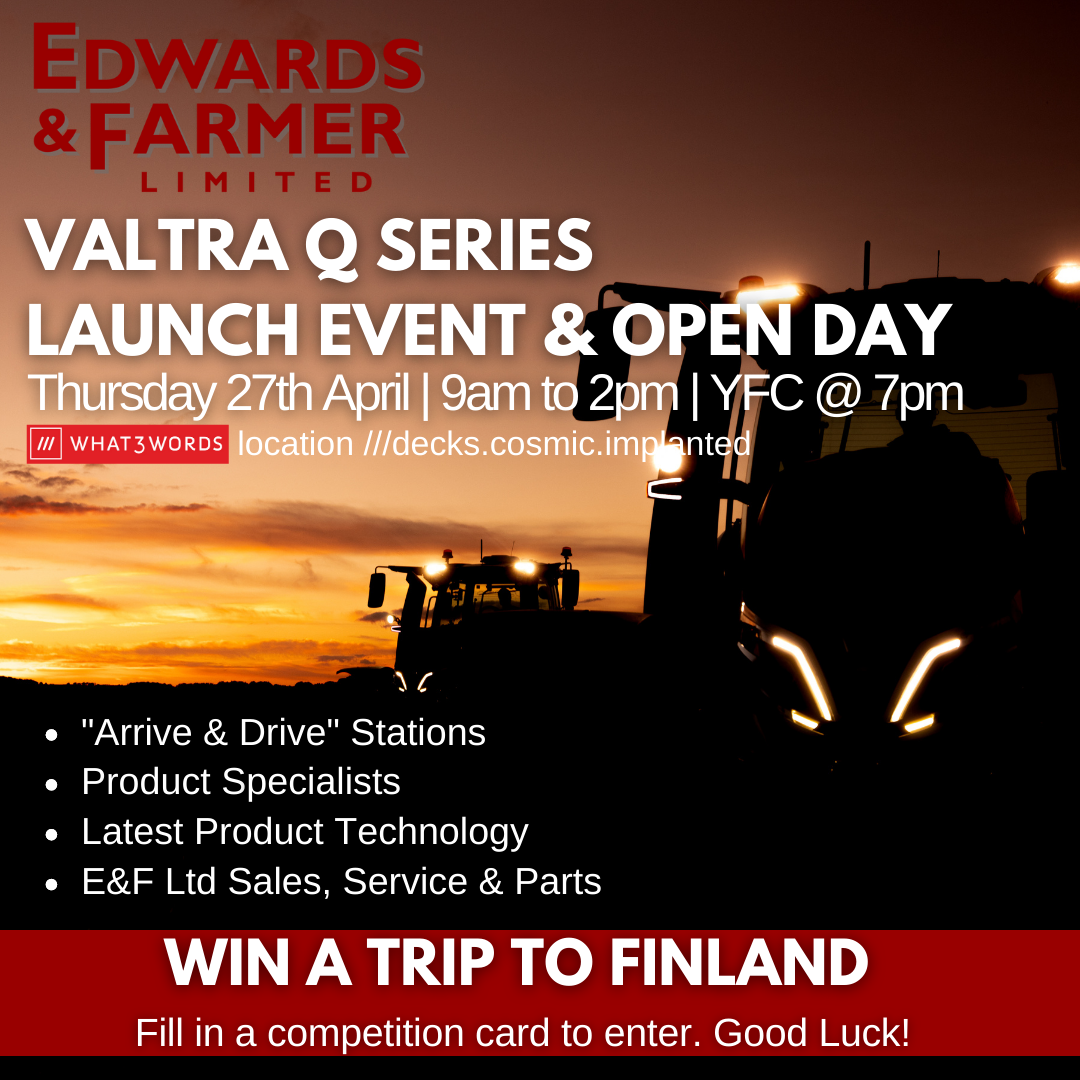 Come and join us on the 27th April for our Q Series Launch and Open Day!

Our team of Product Specialists & Sales, Workshop and Parts and many of our manufacturers representatives will be available to chat to throughout the day as well as drive stations with the all new Valtra Q Series, Horsch and Larrington.

There's also an amazing opportunity to win a trip to the Valtra Factory in Finland - Come along to find out more!

For catering purposes please register by emailing annabelle@edwardsandfarmer.co.uk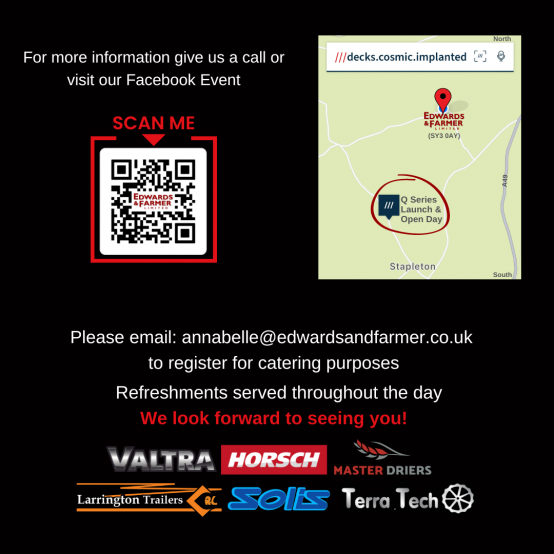 VALTRA Q SERIES WINS FARM MACHINE 2023 JURY AWARD
Valtra's Beast beats the rest
The all-new Valtra Q Series has won the much-coveted FARM MACHINE 2023 Jury Award. The FARM MACHINE award, formerly known as Machine of the Year, is one of the most prestigious awards in agricultural engineering.
Launched in September 2022, the Q Series is our newest addition to the 5th-generation lineup. Known as 'The Beast', the Q Series completes Valtra's horsepower offering with a power range of 230 to 305 hp.

The Beast has quickly gathered industry attention for its efficient and powerful CVT-based powertrain and smart farming technology such as Valtra Guide, Variable Rate Control and SmartTurn which come as standard. Farmers and contractors alike have praised the Q Series for its comfort, manoeuvrability, and ergonomics.Ultimately, it was the Q Series' versatility and agricultural contractor-focused approach that won over the FARM MACHINE 2023 jury at SIMA in Paris on 6th November. Winners of the FARM MACHINE Jury Award are chosen by an international jury consisting of farm equipment journalists from over a dozen countries.

"We know we have a winning machine with the Q Series. It has exactly the power, comfort, and technology large farms and contractors are looking for in a tractor of this horsepower. Furthermore, we guarantee the best tractor experience for our customers with the Q Certified Dealer program. Q Certified dealers offer tailored financing, exceptional after sales service, and ensure every Q Series is set up with all smart farming features right from day one. We are confident that the Beast will continue to impress customers and juries". Commented Mikko Lehikoinen, Vice President, Marketing.
READ MORE >
Valtra unleashes the beast with it's NEW 230-305hp Q series tractor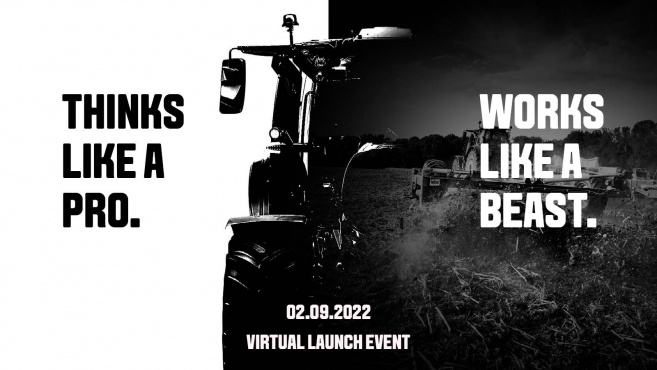 Valtra's 5th generation model line-up now includes an entirely new series that sits between the popular T and S Series.
The Q Series tractor, designed, engineered, and manufactured in Finland, is ideal for large farms and contractors looking for performance and integrated smart technology in the 230-305 HP range. The Q Series has the power, intelligence, and versatility to maximise productivity while driving down costs for large farms and contractors by combining industry-leading design, high quality components and finishing, and outstanding aftersales support.
The Q Series is an easy-to-use, intelligent machine, designed for professionals, allowing customers to perform any farming or contracting task and handle any implement with ease and efficiency thanks to the credible 7.4 litre AGCO Power engine and the industry-leading Q Series AGCO CVT transmission.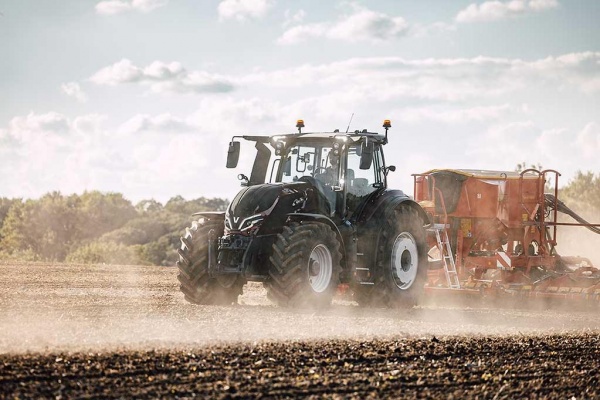 The Q Series has a very ow total cost of ownership. Precision farming solutions that are simple to use, has a powerful, robust, and reliable design, and provides excellent customer support allowing Q customers to maximise their performance and ensure fuel efficiency, working hour efficiencies, and reduced inputs. This is a winning combination that will provide the best tractor experience available in this horsepower range.
"The Q Series is a high-quality tractor with a capital Q, and customers deserve the same." "We have introduced a certification programme for Q Series dealers to ensure the best tractor experience," says Sales Director Matti Tiitinen.
Q Series dealers provide expert sales and aftersales service, as well as a high level of spare parts availability, service contracts, and flexible financing options for total cost control. Furthermore, Q certified dealers provide a 100 percent connected fleet to ensure maximum uptime by scheduling predictive maintenance for when it is most convenient for customers. At handover, special care will be taken to ensure that the customer's Q Series is configured with their implements and all smart farming capabilities from the start.
The 7.4 litre engine has the largest displacement in the market for a tractor of this size, ensuring dependability and fuel efficiency. Maximum power is available at low engine speeds of 1850 rpm, and maximum torque is consistent between 1000 and 1500 rpm. The Q Series' high power and torque are easily generated by the long stroke engine. Valtra's EcoPower principle has been applied to the entire Q Series range, lowering fuel consumption even further. Only 1500 rpm is required to reach top speed.
The transmission is simple to use. The electronic transmission management of the Q Series automatically selects the lowest possible engine revs for the work to maintain the lowest possible fuel consumption, and distributes power accordingly to the hydraulics, PTO, or transmission. The driver simply adjusts the settings to suit the driver or task at hand. Droop control allows the operator to change the tractor's behaviour for even more economical or intensive operation, saving either fuel or time, depending on the customer's cost-saving preferences.
With a weight of 9.2 tonnes, the Q is neither too light nor too heavy and protects soil from compaction. The maximum gross weight is 16 tonnes, which ensures a high payload and guarantees that the load is always transported legally.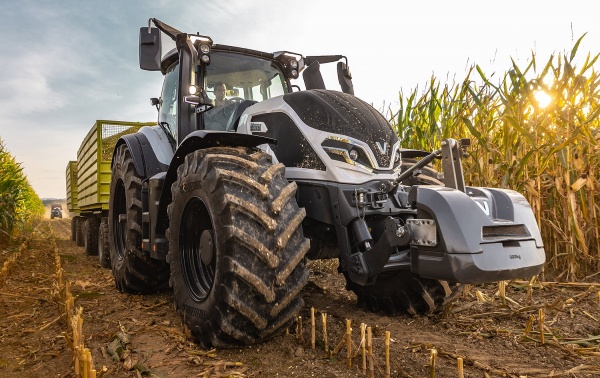 The Q Series is small in size, with a low total height and a long wheelbase. As a result, the centre of gravity is low, making the Q extremely stable. The Aires Suspension, in conjunction with the long wheelbase, increases the tractor's pulling force and reduces power hopping. Because air suspension has a faster reaction time than industry standard hydraulic suspension, it improves ground grip.
At road speeds, power is almost entirely mechanically transmitted, resulting in quick and smooth acceleration. The cab and front axle are both air-suspended and perfectly synchronised to ensure a smooth ride in any environment and temperature, whether harvesting on a hot summer day or clearing snow from the roads in winter.
Sign up for the Q Series virtual launch on the 2nd September 2022 here!
TO REGISTER YOUR INTEREST IN THE Q SERIES OR TO BOOK A DEMO EMAIL

SALES@EDWARDSANDFARMER.CO.UK
Official Richard Larrington Trailer Dealer

We at Edwards & Farmer Ltd are proud to announce that we are now officially Larrington Trailers Ltd's main dealer for Shropshire and surrounding areas. Larrington Trailers Ltd is a British family run business located in Lincolnshire with over 50 years' experience, manufacturing a variety of trailers ranging from silage, root crop, straw, low-loaders, construction and other specialist trailers.
"We wanted to support a British manufacturer who shares our values where build quality and aftersales support are essential," said Rupert Farmer . "We are expecting a Harvester model to arrive in February ready for demonstration. Please feel free to call our sales department on 01743 718762 for any enquiry's or to book a demonstration."
About Richard Larrigton Trailers:
Back in 1962 Ray Larrington was one of the UK's largest muck spreading contractors, covering vast areas of Lincolnshire and beyond. The quality of trailers available at the time wasn't great and they often broke under the strain. Fed up with the quality of trailers available at the time Ray started building his own trailers, designed to handle heavy loads and the constant heavy use needed for his contracting operation. It wasn't long before his trailers earned a reputation for being the strongest and most reliable available and many contractors approached Ray to build their trailers. Due to rising demand Ray stopped muck spreading and started full-time manufacturing in 1972 and Larrington Trailers was born.
Fitting hydraulic tail doors since 1978 and being the first British manufacturer to fit air suspension and commercial axles to an agricultural trailer, Larrington Trailers have led the way through innovation from the beginning and this is still the case today. Since taking over from his father in 1994, Richard Larrington has invested heavily in research and development while listening to customer feedback ensuring our products deliver when and where it matters most.
This approach has led to the development and introduction of many products and features over the years such as the single tipping ram, full width front-grill (Larrington Eye), Ejector push-off trailers, Chaser trailers, and specialist Box Loaders which are sold all around the world.
Strength, build quality, usability and reliability have been at the heart of our products from the very beginning, and is still the case now as we look to celebrate 50 years of Larrington Trailers next year.
Official Oxdale dealer
We at Edwards & Farmer Ltd are proud to announce that we are an official Oxdale Products dealer. Oxdale Products are a Family run British manufacture that are located in Chesterfield. The company originally started just producing log splitters but now they have progressed into making various other attachments such as PTO saw benches, Flat rollers, Chain harrows, Tine weeders, Post hole borer, Post knocker, Grader boxes, compact tipping trailers, slitter aerator, spring tine cultivators and log grabs.
Oxdale are also the main UK imported for Delmorino which are an Italian manufacture that produce various attachments such as flail mowers, finishing mowers, rotavators, toppers and rear excavators. So we are looking forward to working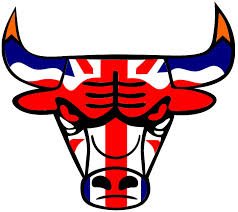 alongside Oxdale to provide various options to customers to suit there needs.
We would like to thank Oxdale Products for working with us and making us an official dealer.
For more information on the Oxdale or Delmorino range please call our sales team on 01743 718762
WE ARE NOW SOLIS TRACTOR DEALERS
We have been appointed as the Solis dealer for Shropshire !!! Solis offer a range of small compact tractors ranging from 26 to 75 horse power covering all you needs whether you own a farm, small holding, orchard, golf course, caravan site or a livery yard. Cabs and loaders are options that can be added if needed offering more versatility from your machine. They are complete with 3 years Manufactures warranty (terms and conditions apply)
Please feel free to contact our sales team on 01743 718762 for more information on the Solis Tractor range.
CORONAVIRUS STATEMENT
Due to the continued concern regarding Corona Virus we have advised all our staff when visiting customer premises or machinery to follow the Government advice. All our staff have been issued with examination gloves and wipes to minimise any possible cross contamination for our customer and their own health and safety. Please can we ask you to allow our staff to carry out their work with minimum disruption to help prevent any possible infection. Thank you